Samuel J. Smart was my wife's great grandfather. He is currently interred in the St George section of Saint Michael's cemetery. His wife, Catherine Sullivan, is interred in an adjacent lot. If you are looking to locate this headstone, count nine rows from the back (closest to the back gate) and start your search around the middle of the row.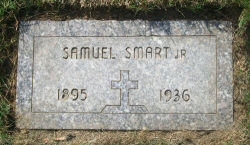 Samuel was 41 when he died. According to family lore, he fell ill after working on his car. It had been wet and cold. His wife warned him not to be outside, but he didn't listen.
I will admit, I am suspicious of this tale. When I first heard it, I had the impression Samuel died in the winter. He died November 8th. It can be cold in Massachusetts at that time, but I don't think he was crawling around in snow. My guess is that his adventures in car repair hurt his ability to fight off an illness, but not the direct cause.
After he died, Samuel's three young daughters went to live with other family members while their mother got back on her feet.
Samuel was initially interred in the Sullivan family plot in the St Agnes B section. By 1958, this lot had filled up. Samuel was moved to the St. George section. This made room for his brother-in-law William and allow him to be next to Catherine.