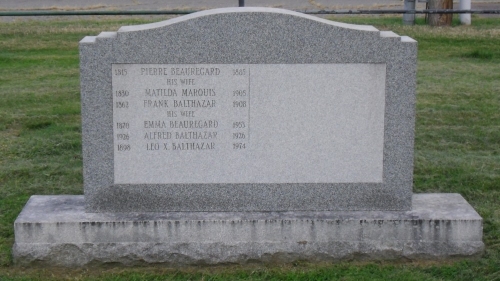 A couple weeks ago, I located the graves of
Pierre Beauregard
and his wife,
Matilda Marquis
. Pierre and Matilda are my third great grandparents. Both have been somewhat of genealogical dead end for me. I have the death record for both. The records include the names of the parents and the fact they were born in Canada. Unfortunately, that is the only thing I know about them.
Matilda's death certificate had her interred at Notre Dame Cemetery in South Hadley, MA. The office's records were incomplete. They had an index of burials, but had lost the original records. The best they could do was guess at the section. They didn't have a record for Pierre.
I spent some time in the cemetery, but things weren't adding up. Lots in were issued on a an as needed basis, meaning the headstones were in order by death date. Matilda died in 1905 and this seemed to have been started around 1910.
I started to wonder if it was possible Matilda was moved. Turns out, she was moved. Her daughter, Emma Balthazar was interred in nearby Precious Blood Cemetery. I had previous asked who else was buried in this lot and didn't have this information.
When I went out to the lot, I was surprised to see Pierre listed on the headstone. This gave me a birth year and a death year. I suspect Pierre was also buried somewhere else and moved. I can't imagine they would have been interred separately if this lot was in the family when Pierre died.
When the office determined Matilda was buried in Precious Blood, they also said that there was a Napoleon Beauregard there too. This was a surprise to me. My second great grandfather was named Napoleon. I don't know if this is the same person or if it was meant to be Pierre. I believe him to be buried in Norwich Bridge Cemetery in Huntington. His name is listed on a headstone, but some of the information on the headstone is incorrect, so I don't know.