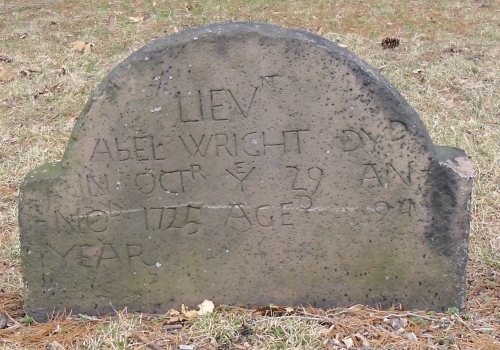 Abel Wright
was my 9th great grandfather. He was amongst the earliest settlers of Springfield, MA. A group led by William Pynchon first settled in Springfield in 1636. The first official record of Abel was a land grant in 1655. Prior to this record, there doesn't appear to be any solid information on Abel, how he came to Springfield or his parentage. One theory is he may have been related to
Deacon Samuel Wright
. Samuel Wright was also part of Pynchon's group. His children are well documented, so it seems clear that Abel wasn't his father.
Abel died in 1725 at the age of 94. He is interred in Springfield Cemetery and his headstone is in excellent condition. He was initially interred in Springfield's Old Burying Ground. This cemetery was located somewhere between Old First Church and the Connecticut River. It was relocated in 1848 to make way for railroad tracks. Most of the graves were moved to Springfield Cemetery, but some were relocated to West Springfield. The only other Wright headstone that seems to have survived from this period was that of Abel's son, Benjamin (my eighth great grandfather). I would speculate that his other family members were also interred in Old Burying Ground, but either didn't have headstones or their headstones didn't make it through the years. Because of its proximity to the Connecticut River, Old Burying Ground was susceptible to flooding and this may have contributed to the loss of headstones.
Abel married Martha Kitcherel in 1659. Martha was the daughter of Samuel Kitcherel of Hartford, CT. Based on vital records, they had 13 children with 10 surviving until adulthood. Martha died in 1708. She and some other members of her family were victims of an Indian attack during King Philip's war. She survived the initial attack but had been scalped. She died as a result of her injuries two months later.
When I started my research on Abel in earnest, I acquired a copy of Genealogy of Lieut. Abel Wright of Springfield, Massachusetts by Rev. Stephen Wright. It was published in 1881 and it appears to be the earliest research available. This publication was only nine pages long, but does cover the first and second generation male lines fairly well. It does extend some lines out to the sixth generation, but this is far from complete. I suspect the author's lines were amongst the lines that were expanded more fully. At the end of the publication, there is a note from the author stating that he had additional research and intended to include future generations, but was limited by space. I haven't been able to locate subsequent publications from Steven Wright, but I must admit, I haven't looked too hard.
I have expanded my genealogy database to include all the entrants in Steven Wright's publication. In many cases, I was able to back up the information with primary resources. I have also expanded upon this work. I believe I had the first three generations including female lines mostly complete and I have a lot of good information on the following three generation. Right now, I am limited my scope of work to the first six generations in order to keep things manageable.