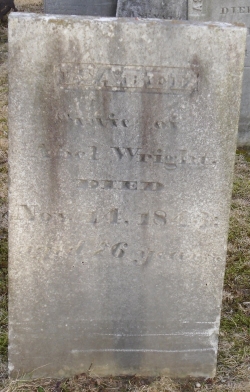 On Saturday, we looked at Fuller Cemetery in Ludlow for information related to the family of Timothy Wright. Timothy Wright is my sixth great grandfather. He and his family lived in Ludlow, but I have only found limited information on their extended families.
We had looked at Fuller Cemetery once before, so I wasn't expecting to find anything major. I figured it was worth a second look because there were some Wrights in Fuller Cemetery that I had previously ignored because it wasn't clear where they fit in.
One of the previously ignored Wrights was Isabel (Searl) Wright. Her headstone identifies her as the wife of Abel Wright. It turns out that Abel Wright was the brother of Timothy. Abel was born in Springfield on February 8, 1739. According to the research of others, he married Jerusha Griswold and settled in Windsor, CT. Some time before 1786, he relocated to Ludlow, MA. Jerusha died some time after this (presumably in Ludlow). Abel remarried Sarah Wilder and then Isabel. He died in Ludlow in 1836.
I don't know if Abel is buried in Fuller Cemetery or somewhere else. There is open area next to Isabel's headstone that could be Abel's unmarked grave. Another possibility is Island Pond Cemetery. Island Pond Cemetery is actually Ludlow's newest cemetery. The graves from Jenksville Cemetery (aka Village Cemetery) where moved there in around 1902. Like Fuller Cemetery, we have visited Island Pond Cemetery once before and it probably warrants a second look.